"Winter Itch"
11/23/2008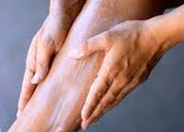 "Winter Itch"
The chilly winter weather with low humidity, biting winds and indoor heating can take a heavy toll on our skin. It is mainly the common cause of dry, flaky, scaly and itchy skin.
According to the National Health Interview Survey, 81 million Americans are suffering from dry, itchy skin in the winter. People who live in colder part of the country experience dry skin problems more severely. Intense itchiness often occurs on the lower legs, elbows, and forearms.
The harsh winter conditions along with the everyday activities such as cleaning and bathing contribute to depleting the skin's natural lipid layer, which keeps the skin from drying. And as we get older, this problem becomes worse because the aging process also decreases the amount of this protective skin oils.
Our skin is the largest living organ of our body. Its cells die and are replaced everyday. When the skin feels rough and itchy, it is its natural way of letting us know that its outer layer has been stripped away and that it needs help.
This winter, scratch no more! We invite you to try our Royal Jelly Body Lotion. An herbal product that is careful studied and developed, guaranteed to help with your severe dry skin conditions.
Royal Jelly has been known to be good for the skin. We are using it as the main ingredient in this lotion. With its rich content of natural lipids, Royal Jelly helps the skin retain moisture and at the same time provides nourishment and regenerate skin cells.
Royal jelly also contains a wide range of skin nourishing nutrients, including riboflavin, pantothenic acid, niacin, pyridoxine, and vitamins C, A, and E. Its hormones are also helpful in healing dry, itchy skin, since they act as a natural type of cortisone.
The vehicle ingredients in this lotion such as Piper Betle and Cassia tora L. also play an important part in making this lotion the perfect treatment for winter dry, flaky, scaly and itchy skin.
Keep your skin moisturized and healthy this winter with Royal Jelly Body Lotion!
Other Articles