Carpal Tunnel Syndrome
8/11/2007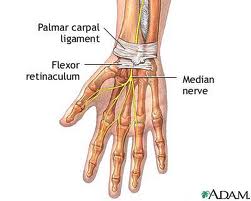 NONSURGICAL MANAGEMENT OF CARPAL TUNNEL SYNDROME BY ACUPUNCTURE
What is Carpal Tunnel Syndrome?
Carpal tunnel syndrome is a painful progressive condition caused by compression of a key nerve in the wrist. It occurs when the median nerve, which runs from the forearm into the hand, becomes pressed or squeezed at the wrist. Symptoms usually start gradually, with pain, weakness, or numbness in the hand and wrist, radiating up the arm. As symptoms worsen, people might feel tingling during the day, and decreased grip strength may make it difficult to form a fist, grasp small objects, or perform other manual tasks. In some cases no direct cause of the syndrome can be identified. Most likely the disorder is due to a congenital predisposition - the carpal tunnel is simply smaller in some people than in others. However, the risk of developing carpal tunnel syndrome is especially common in those who perform repetitive wrist and thumb motions, awkward hand positions, strong gripping, mechanical stress on the palm, vibration, such as: Cashiers, hairdressers, nail technicians, computer operators, musicians, knitters or sewers are examples of people whose work-related tasks involve the repetitive wrist movements associated with carpal tunnel syndrome. Bakers who flex or extend the wrist while kneading dough, people who flex the fingers and wrist in tasks such as milking cows, using a spray paint gun, and hand-weeding are other examples. Excessive use of vibrating hand tools may also cause carpal tunnel syndrome.
If not treated, this can cause the hand to be paralyzed.
Common Carpal Tunnel Syndrome Symptoms:
Difficulty in performing tasks such as unscrewing bottle tops, fastening buttons, or turning keys

Pain

radiating up the forearm

Cold hands – Forearms warm

Weakness in hand and wrist

Poor circulation, hands fall asleep

Loss of grip strength

Dropping objects
Dr. Tom has treated many patients with Carpal Tunnel Syndrome successfully by using acupuncture and herbal medicines- a none-surgical method. Please call (813) 562-9857 for more information.

Comments for this article (9 comments)
Other Articles