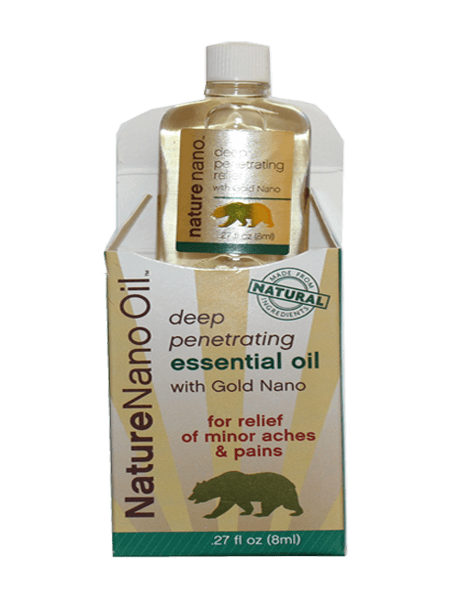 THERAPEUTIC NATURAL GOLD OIL
Nature Nano Oil is the first therapeutic essential oil blend created using gold nanotechnology infused with potent herbal extracts that can provide immediate relief for many pain sufferers through its ability to penetrate deeply and quickly into the blood stream, providing oxygen and improving circulation to inflamed areas.
Nature Nano Oil blend has anti-inflammatory, anti-microbial and sedative properties to alleviate muscle pain and spasms, arthritis joint pain, body pain and tension, bruises and sprains, stiffness, lower back pain, headaches, sinuses, and stress.
Generates heat to help the body stay warm and comfortable during the winter months.
Provides comforting effects on moods and emotions, the gentle natural pleasant aromatic essences re-establish balance between body and mind.
Nature Nano Oil is effective because it bypasses the digestive system and becomes absorbed directly into the blood stream to eliminate pain immediately. The next time you feel the need to open a bottle of pain killer medicine, try a more invigorating method of managing pain provided by nature, without added chemical content, Nature Nano Oil! You will discover the amazing powers packed into the little bottle of this special therapeutic blend.
.27 FL OZ (8 ML)

MADE IN USA.
Key Ingredients: Gold Nano, Menthol, Myristica fragrans, Origanum majorana, Cinnamonum zeylanicum, Citrus bergamia, Capsaicin, Proprietary Blend.
Hãy sáng tạo và tận hưởng loại dầu đặc biệt này:
Thoa một lượng nhỏ vào vùng đau và thoa đều trong một vài giây.
Hít nhẹ vào mũi để được tỉnh táo về tinh thần, giảm stress, thông mũi. Bergamot được biết đến với công dụng giúp đỡ sự tập trung. Hít nhẹ trong ngày để tăng sự tập trung và vào ban đêm để được giấc ngủ êm..
Buồn nôn - Thoa 1 giọt đằng sau lỗ tai và xung quanh rốn 2-3 lần mỗi giờ.
Chế độ ăn uống - Hít mùi thơm để kiềm chế sự thèm ăn và tránh ăn quá nhiều.
Cảm lạnh và cúm - Xoa một vài giọt dưới vùng bàn chân để giúp tăng cường hệ thống miễn dịch.
Đau bụng trong lúc hành kinh - Thoa một vài giọt lên vùng bụng dưới. Áp dụng một chiếc khăn ấm và ẩm ướt trong khoảng 10-15 phút.
Nhức đầu – Thoa nhẹ trên gáy, đằng sau lỗ tai, đền, trán và mũi.
Xoa bóp cổ - Áp dụng và mát xa phía sau cổ và ngôi đền để giảm bớt căng thẳng.
Xả stress - Thoa 1-3 giọt vào lòng bàn tay của bạn, chà tay vào nhau và tách tay lên che miệng và mũi, sau đó hít 6 hơi thở chậm sâu và suy nghĩ của một khoảnh khắc đẹp.
What is Gold Nano?
Gold Nano is a small object composed of gold and, which has one-, two-, or three-dimensions on the nanoscale. Biomedical applications of gold nanoparticles (AuNPs) are rapidly increasing due to their attractive properties of relatively low cytotoxicity. In recent years, gold nanoparticles have been used in several biomedical applications. Gold nanoparticles could be candidates for transdermal delivery systems. Gold compounds such as gold sodium thiomalate have long been used to treat some forms of arthritis due to its anti-inflammatory benefits.
Nowadays, AuNPs are used effectively in laboratory as a diagnostic agent or as a therapeutic agent. Nature Nano utilizes the gold nanoparticles as a delivery agent to help pass the ingredients deeper through skin and tissue, efficacious for fast penetrating relief of muscle aches. Gold nano peptides are produced in California, USA. It has been tested for endotoxin, and is certified safe for numerous applications for medical diagnostics, and therapeutic uses.